Good Morning Trendy Twiners!!!
Jessica here from Chick-n-Scrap and today is my day to share some twine goodness with you all. For the entire month of April the DT is featuring the gorgeous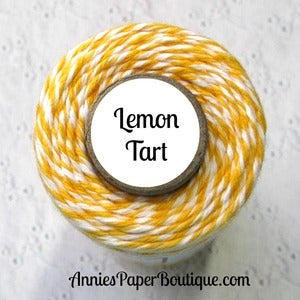 Such a perfect color for spring, for flowers and for babies!
Which leads me to my project for today!
Spring is in the air and it is also getting to be baby season so for my project I made a cute baby gift box that can be used to hold a gift card, small treat or baby mementos.
I have this obsession with making these trendy twine pom poms! Don't they look adorable as the antenna??
Here are the sides of each of the BABY box. I added some Lemon Tart Trendy twine to each of the letters. A loopy flower to the "B" and a double bow to the letters "A and Y"
As always there are additional details up on my blog. I would love if you popped over to say
Thanks so much for stopping by and have a GREAT rest of the week!!!